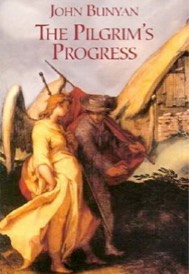 John Bunyan, The Pilgrim's Progress (Philadelphia: Universal Book and Bible House, 1935), p. 66:
About the midst of this valley I perceived the mouth of hell to be, and it stood also hard by the wayside. Now thought Christian, what shall I do? And ever and anon the flame and smoke would come out in such abundance, with sparks and hideous noises (things that cared not for Christian's sword, as did Apollyon before), that he was forced to put up his sword, and betake himself to another weapon, called "All-Prayer"
"And pray in the Spirit on all occasions with all kinds of prayers and requests. With this in mind, be alert and always keep on praying for all the saints" (Ephesians 6:18). 
Audio book:
Animated video      The Pilgrim's Progress
http://www.imu.dk/IMU/Tankstation/The_Pilgrims_Progress/?docId1=KGr-WdRzdYM